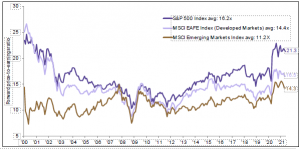 Stephen M. Mills, CIMA®
Managing Partner PIM Portfolio Manager
Brad Bays, CIMA®
Partner PIM Portfolio Manager
Highlights
U.S. GDP growth surged 6.4% in the second quarter.
The U.S. Federal Reserve recently indicated a gradual adjustment to monetary policy over the next two years, including possible interest rate increases.
Stocks continue to outperform bonds and money market funds.
We see robust U.S. economic growth for the remainder of 2021.
We continue to favor U.S. Large Cap Equities along with U.S. Small-Cap Equities and Emerging Market Equities.
The U.S. economy continues to rebound sharply from the 2020 pandemic induced recession. U.S. GDP (Gross Domestic Product) surged 6.4% in the first quarter of 2021 following a 4.3% increase in the fourth quarter of 2020.
However, the economic rebound doesn't come without some potential problems. In particular, strong demand for goods and services is driving prices higher and pushing up inflation. The U.S. Department of Labor said May's consumer- price-index (CPI) rose a surprising 5.4%, the largest increase since August 2008.3Core CPI, which excludes cost of food and energy, rose 3.8% in May from the year before, the largest increase since June 1992.3Granted, these figures are abnormally high because they are compared to prices a year ago when prices plummeted due to the Covid-19 pandemic. However, the abnormally high inflation could persist as the economy normalizes and works through current supply/demand imbalances.
We believe these headline inflation numbers are causing a great deal of concern among investors. Higher inflation often leads to higher interest rates which in turn can slow economic growth. Investors may be concerned that if inflation persists, the U.S. Federal Reserve (the Fed) will be forced to raise the Fed Funds Rate which is a benchmark used to determine rates for various kinds of loans. In the June Fed board meeting, Fed officials signaled they expect to raise interest rates sometime in 2023, sooner than anticipated in their March meeting. While that is good bit in the future, it signals to investors a potential important shift in Fed monetary policy. Chairman Powell also indicated in his post meeting remarks that the Fed may consider tapering bond purchases beginning later this year. We feel the Fed's shift in tone was a "wake up call" to investors about the central bank's potential future response to higher inflation. We believe that the Fed will likely remain accommodative for an extended period of time and any tightening will be very gradual.
Furthermore, while we see potentially high headline inflation numbers over the next several months due to robust economic growth and supply chain disruptions, we believe inflation will begin to moderate in 2022 and economic growth will return to the longer-term trend of 2-2.5% GDP growth in the latter half of the year.
Stocks continued their upward trend in the first half of 2021 as measured by the major stock market averages. The S&P 500 Index posted a total return of 15.1% while the Dow Jones Industrial Average (Dow) gained of 14% including dividends.4The technology dominated NASDAQ Composite Index under-performing both the Dow and the S&P 500 slightly posting a 12.6% increase in value.4Investor focus shifted away from the big growth stocks to more economically cyclical stocks which are benefiting from the reopening of the U.S. economy. Stocks in the energy, industrial, financial, travel and leisure sectors have led the stock market higher since the approval of the Covid-19 vaccines in November 2020. Stocks continue to outperform bonds and money market funds by a wide margin. We believe this will continue over the next 6-12 months, as the global economy continues rebounding.
With most of the major stock market averages at or near all-time highs, many investors may worry that stock valuations are excessive and that we could be in what some would call a "bubble" in stock prices that could burst at any time causing painful losses in stock portfolios. While we don't make predictions about short-term stock market movements, we can opine on market valuations and that can help us draw some reasonable conclusions on the future direction of stock prices over the next 12-18 months.
Currently, the S&P 500 Index is trading at a Price-to-Earnings Ratio (PE) of about 21.3 times, as indicated in the chart below, which is based on Wells Fargo Investment Institute's (WFII) estimated 2021 S&P 500 earnings per share (EPS) of $200.5This is significantly above the 20-year average PE of 16.5 as you can see on the chart. However, this PE is only about 10% above the modern-era average PE of 19.6 going back to 1950.6Using WFII's 2022 EPS forecast for the S&P 500 of $220, the PE ratio drops to 19.5, a valuation level that we consider very reasonable and nowhere near "bubble" territory especially given the current low interest rate environment and favorable monetary conditions.



Global equity valuations
Source: Wells Fargo Investment Institute Economic & Market Strategy Charts dated June 15, 2021. Data sourced from FactSet; May 31, 2021. P/E ratios represent the total price of the index divided by its total earnings. An index is unmanaged and not available for direct investment. Past performance is no guarantee of future results.
In addition, as you can see on the chart, the international stock markets are significantly cheaper on a PE basis than the U.S. market, particularly the Emerging Markets which is an equity sector we favor at this time. We see significant economic growth potential in Southeast Asia and Latin America over the next several years as the consumer base in those regions continues to expand and demand for goods and services grows.5
As for the U.S. stock market, we believe there is still reasonable upside in stock prices if economic fundamentals continue to improve as they have over the past several months. Although we don't expect stocks to reach significantly higher valuation levels in the near term, we do feel there is further room for stocks to advance before the bull market that began in March 2020 comes to an end, especially if corporate earnings continue to expand. Of course, stocks will likely remain volatile and a correction in the 5-10% range or more could possibly occur at any time. We feel this type of market correction is healthy and a necessary part of a bull market. We experienced nearly a 5% correction in late June around the Fed comments concerning the potential for a tapering of bond purchases later this year and the possibility of interest rate hikes in 2023. If the Fed starts tapering in the fall of this year, we could see more market volatility.
We believe any market weakness would be a good opportunity to add to equities depending on your situation. We continue to favor U.S. Large Cap Equities along with U.S. Small-Cap and Emerging Market Equities. With respect to sectors, we prefer cyclical sectors that are more economically sensitive like Energy, Materials, Industrials, Financials and Telecommunication Services over defensive sectors such as Utilities, Real Estate and Consumer Staples.
Energy stocks have been the best performing sector in the S&P 500 Index year-to-date following several years of underperformance. As the global economy reopens, we believe that demand for oil and products that come from oil like gasoline, jet fuel, diesel fuel, heating oil, and kerosene will be very strong. In addition, we believe as workers get back to working in the office after over of year of working remotely, demand for electricity will increase. Fossil fuels still account for 60% of the electricity generation in the U.S while nuclear and renewables account for about 20% each.7While we see demand for fossil fuels rising as the global economy recovers, we see energy suppliers maintaining status quo producing only enough to match demand. Energy producers are also facing increasing pressures to reduce their "carbon footprint" and invest more in green energy technologies like wind, solar, hydrogen and renewable diesel which could potentially curtail traditional oil and gas exploration. We don't expect any new oil supply to hit the market from OPEC in the near term as OPEC representatives recently stated it expects to keep its output steady and for the global oil market to remain in deficit this year.8These supply constraints could continue putting upward pressure on oil prices potentially pushing prices to $80-90 per barrel for WTI this year in our view. However, we think at those levels, U.S. oil production could ramp up again driving price back down toward $50-60 range. Even at the lower end of that price range, oil and gas related companies can be very profitable.
In summary, we remain optimistic about the prospects for continued U.S. economic expansion for at least the remainder of 2021 and the first half of 2022. We see an upward bias for the major stock market averages along with occasional corrections. Bull markets never go up in a straight line. It is important that investors understand there will be periods of downside volatility. That's why we believe it is very important to manage portfolio risk especially after a significant increase in portfolio value as many investors have experienced since April of last year. Part of risk management is to compare long-term asset allocation objectives to the current portfolio asset allocation. If there is a significant difference in the objective verses the current allocation, we believe can be wise to rebalance portfolios. While we don't employ or support a market timing methodology of managing money, we do believe in rebalancing portfolio allocations to predetermined asset allocation objectives from time to time when necessary. With most stock market averages at or near all-time highs, we feel this may be prudent time to at least consider realigning the equity/bond/cash mix in portfolios with long-term investment objectives.
As always, we greatly appreciate your continued trust and confidence in us and we will work to keep you informed of economic and market developments.
Your Trinity CapitalManagementTeam
Trinity Capital Management, 821 ESE Loop 323, Suite 100, Tyler, Texas 75701. 903-747-3960. www.tcmtx.com
Footnotes
The indices presented in this material are to provide you with an understanding of their historic performance and are not presented to illustrate the performance of any security. Investors cannot directly purchase any index.
The opinions expressed here reflect the judgment of the author as of the date of the report and are subject to change without notice. The material has been prepared or is distributed solely for information purposes and is not a solicitation or an offer to buy any security or instrument or to participate in any trading strategy. Additional information is available upon request.
Stocks offer long-term growth potential, but may fluctuate more and provide less current income than other investments. An investment in the stock market should be made with an understanding of the risks associated with common stocks, including market fluctuations. Investing in foreign securities presents certain risks not associated with domestic investments, such as currency fluctuation, political and economic instability, and different accounting standards. This may result in greater share price volatility. These risks are heightened in emerging markets.
Asset allocation cannot eliminate the risk of fluctuating prices and uncertain returns nor can diversification guarantee profits in a declining market.
Past performance is no guarantee of future results and there is no guarantee that any forward-looking statements made in this communication will be attained.
Wells Fargo Advisors Financial Network is not a legal or tax advisor. Consult your tax advisor or accountant for more details regarding your specific circumstance.
P/E Ratio is a valuation of a company or an index's current value compared to it's earnings per share. It is calculated by dividing the market value per share by earnings per share. S&P 500 Index: The S&P 500 Index consists of 500 stocks chosen for market size, liquidity, and industry group representation. It is a market value weighted index with each stock's weight in the Index proportionate to its market value.
S&P 500 Index: The S&P 500 Index consists of 500 stocks chosen for market size, liquidity, and industry group representation. It is a market value weighted index with each stock's weight in the Index proportionate to its market value.
Dow Jones Industrial Average: The Dow Jones Industrial Average is a price-weighted index of 30 "blue-chip" industrial U.S. stocks.
Past performance is no guarantee of future results and there is no guarantee that any forward-looking statements made in this communication will be attained.
The MSCI EAFE Index is designed to represent the performance of large and mid-cap securities across 21 developed markets, including countries in Europe, Australasia and the Far East, excluding the U.S. and Canada. The MSCI Emerging Markets Index is designed to represent the performance of large- and mid-cap securities in 24 Emerging Markets. •The prices of small company stocks are generally more volatile than large company stocks. They often involve higher risks because smaller companies may lack the management expertise, financial resources, product diversification and competitive strengths to endure adverse economic conditions. •Risks associated with the Technology sector include increased competition from domestic and international companies, unexpected changes in demand, regulatory actions, technical problems with key products, and the departure of key members of management. Technology and Internet-related stocks smaller, less-seasoned companies, tend to be more volatile than the overall market.
NASDAQ Composite Index: The NASDAQ Composite Index measures the market value of all domestic and foreign common stocks, representing a wide array of more than 5,000 companies, listed on the NASDAQ Stock Market.
The Energy sector may be adversely affected by changes in worldwide energy prices, exploration, production spending, government regulation, and changes in exchange rates, depletion of natural resources, and risks that arise from extreme weather conditions.
There is increased risk investing in the Industrials sector. The industries within the sector can be significantly affected by general market and economic conditions, competition, technological innovation, legislation and government regulations, among other things, all of which can significantly affect a portfolio's performance.
Financial services companies will subject a investment to adverse economic or regulatory occurrences affecting the sector.
Materials industries can be significantly affected by the volatility of commodity prices, the exchange rate between foreign currency and the dollar, export/import concerns, worldwide competition, procurement and manufacturing and cost containment issues.
The telecommunications sector is subject to the risks associated with rising interest rates which could increase debt service costs, competition, increased costs to providers due to potential for large equipment upgrades.
Utilities are sensitive to changes in interest rates, and the securities within the sector can be volatile and may underperform in a slow economy.
Consumer Staples industries can be significantly affected by competitive pricing particularly with respect to the growth of low-cost emerging market production, government regulation, the performance of the overall economy, interest rates, and consumer confidence
Real estate investments have special risks, including the possible illiquidity of the underlying properties, credit risk, interest rate fluctuations, and the impact of varied economic conditions.
Investment products and services are offered through Wells Fargo Advisors Financial Network, LLC (WFAFN), Member SIPC, a registered broker-dealer and separate non-bank affiliate of Wells Fargo and Company. Trinity Capital Management, LLC is separate entity from WFAFN.
CAR #: 0721-00168