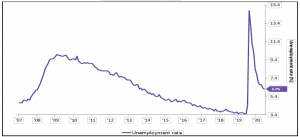 Stephen M. Mills, CIMA®
Managing Partner PIM Portfolio Manager
Brad Bays, CIMA®
Partner PIM Portfolio Manager
Highlights:
Widespread vaccine distribution is helping the U.S. economy to rebound from its pandemic-induced recession.
U.S. job growth continues rise but still has a long way to go to get back to pre-pandemic levels.
The U.S. government and Federal Reserve continue to implement powerful fiscal and monetary measures to support the economy.
We remain optimistic that our economy and financial markets will fully recover from the effects of the Covid-19 pandemic.
What a difference a year makes! This time last year the country was forced into lockdown in an effort to combat the coronavirus pandemic, the economy was heading toward a deep recession, and the stock market suffered one of the worst declines in our nation's history falling 35% from the February 19 high to the March 23 low, as measured by the S&P 500 Index.1It was a very scary time for investors. Although the stock market recovered about half of its losses by this time last year, visibility for the U.S. and global economies was like a thick fog on a cool fall morning. Never in modern history had governments around the world intentionally shut down non-essential businesses and public facilities. We were in uncharted economic territory. Over the next several months, as the scientists began to better understand Covid-19 and how it is transmitted, protocols for wearing masks and social distancing allowed many government officials to partially reopen businesses. During the third quarter, U.S. economic activity rebounded from the worst quarterly declines in its 250-year history. U.S. GDP (Gross Domestic Product) fell an astonishing 31.4% in Q2 but rebounded 33.4% in Q3.2In November, two Covid-19 vaccines were given emergency use authorization by the U.S. Food and Drug Administration (FDA) and the first deliveries of the vaccines began on December 14, 2020.3The prospect of a widespread distribution of the Covid-19 vaccines injected optimism that the global economy could rebound faster than originally expected. This optimism in turn motivated investors to put idle cash to work in the equity markets which drove the major stock market averages to new all-time highs by early 2021.
As of the date of this letter, both the Dow Jones Industrial Average (DJIA) and the S&P 500 indices sit at or near all-time highs and significantly above their February 2020 peaks before the coronavirus pandemic started. We believe the primary reason for the surge in the U.S. stock market averages over past few months is the administration and now widespread availability of the Covid-19 vaccines. There are now three major pharmaceutical companies distributing their Covid-19 vaccine across the U.S and the vaccines are now approved to be administered to anyone age 18 and older. As of April 14, according to the Centers for Disease Control (CDC), 122.3 million people in the U.S. have received at least one Covid-19 vaccine dose with 75.3 million people "fully vaccinated."4Currently, approximately 3 million vaccine doses a day are being administered, according to the Wall Street Journal Covid-19 vaccine distribution tracking model.5If the current pace of vaccinations continues, about half the population will have received at least one dose by early May and 75% by early summer according to the WSJ tracking model projection.5
As a result of the widespread distribution and the apparent success of the vaccines, more and more cities and states are opening up their economies and people are returning to normal activities. Recent economic data is indicating better days lie ahead for the U.S. economy. The recent jobs report by the U.S. Bureau of Labor Statistics (BLS) showed the total nonfarm employment rose by 916,000 in March and the unemployment rate dropped to 6% from 6.2% in February as illustrated in the chart below.6 According to the BLS report, job growth was led by the leisure and hospitality industry, public and private education, and construction. More progress is needed on the jobs front in order to get back to the pre-pandemic 3.5% unemployment rate for the U.S. economy, but the trend is very positive. We believe as more people get vaccinated and more states open up their economies, job growth and economic activity will continue to improve.
U.S. Unemployment Rate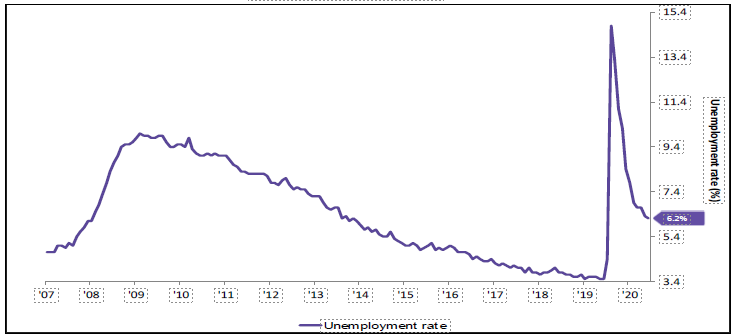 Source: Bloomberg, and Wells Fargo Investment Institute; February 28, 2021
We see jobs growth as the key to continued economic recovery. Going forward, we believe U.S employment growth will be driven by the industries that took the biggest hit during the pandemic like travel and leisure, restaurants, energy, manufacturing, and construction. We believe these areas will benefit as both businesses and consumers open up their pocketbooks and return to more normal spending habits. Consumers are in great shape financially after spending the past year paying down debts and building cash reserves. Household net worth is at an all-time high while the household debt service ratio is near an all-time low as highlighted in the charts below. In addition, consumer confidence has risen to the highest point since the pandemic started according to the most recent Conference Board survey.7We feel this bodes well for future consumer spending.

Sources: Bloomberg, Federal Reserve Board, and Wells Fargo Investment Institute. Consumer balance sheet data as of December 31, 2020. Household debt service ratio: quarterly data from January 1, 1980 to December 31, 2020. Household net worth: quarterly data from January 1, 1990 to December 31, 2020.
We believe a spending surge by consumers will help fuel strong U.S. GDP growth in 2021 and 2022. We see U.S. GDP growth approaching 6% this year and perhaps 5% in 2022. Some economists see even higher growth for the U.S. economy, as federal government outlays potentially stimulate both business and consumer spending. The two most recent U.S. government stimulus bills signed into law of $900 billion in December, 2020 and $1.9 billion in March, 2021 will inject almost $3 trillion into the economy over the next 12 months. This fiscal spending amounts to over 13% of the total annual U.S. GDP of approximately $21 trillion. That spending is on top of the $2.1 trillion Cares Act package that was placed into law at the end of March 2020. In total, the government will have allocated over $5 trillion dollars toward pandemic relief or roughly 25% of total GDP.
This massive amount of government spending will have a very stimulative impact on the U.S. economy in our opinion. Unfortunately, it is also adding significantly to our current government deficit and to our national debt which will eventually have to be delt with. Sadly, it will most likely be our children and grandchildren that will have to deal with the burden and fallout of this deficit spending and federal government debt buildup. But for now, politicians seem to be content with ignoring the problem and simply kicking the can down the road.
Stocks have been moving higher since the November elections as the approval of the Covid-19 vaccines helped raise investor optimism about improving economic growth. This optimism led to a shift on the part of many investors out of cash and into equities. Since November 4, 2020, the S&P 500 Index has risen almost 20%.1Although it would not surprise us to see a 5% to 10% correction in the major stock averages at some point this year, we believe strong U.S. economic growth and improving corporate earnings will continue fueling the stock market higher this year. We believe the S&P 500 Index could hit 4500 by year end, an almost 10% gain from the current level of 4080.
With the recent rise in stock prices some believe that equity valuations are too high given the fundamentals. Currently, the S&P 500 Index trades at about 21 times estimated 2021 earnings. Granted, that is higher than the average S&P 500 price to earnings ratios over the past 20 year of 16.2x but still not nearly as high as the nose bleed area of over 25x we saw back in 2000 during the dotcom bubble.8We believe, given the current low interest rate environment and the potential of even higher corporate earnings in 2021 and 2022, that the overall valuation of the stock is at a reasonable level.
Our optimism about the potential for higher stock prices this year and possibly in 2022 is based on continued monetary support from the Federal Reserve (Fed) , the U.S. government fiscal stimulus mentioned earlier, and rising demand as more people are vaccinated and the U.S. economy returns to normal activity. The Fed continues to remain very supportive of the financial system and has indicated in recent statements by Fed representatives that it will continue providing monetary support for the economy for at least the rest of 2021. We don't see any major change in Fed policy until possibly 2022. Although we have seen a moderate increase in longer term interest rates over the past few months, we do not believe that either interest rates or inflation with rise enough to choke off economic growth this year.
Currently, the benchmark 10-year U.S. treasury note yield is trading around 1.7%, having steadily risen from a pandemic low made in March 9, 2020 of .4%.1We believe the 10-year treasury note could hit 2% and possibly go has high as 2.5% this year, however, we do not think these levels will be enough to derail U.S. economic growth. In fact, we see strong economic activity as the primary reason for this moderate increase in longer term interest rates. We see the U.S. rate of inflation also rising moderately this year but not enough to cause the Fed to begin tightening monetary policy. However, we do admit that with all of the government spending and the Fed easy money policies, there are risks down the road that inflation could spike to levels that might force the Fed to hike short-term interest rates.
Where We See Opportunities
In our 2021 Investment Outlook and Strategy letter of this past January, we recommended an emphasis on what we refer to as reopening stocks and sectors. This included economically sensitive areas like materials, industrials, financials, energy, travel, hospitality and leisure. We felt that these so called "value" sectors would benefit from the distribution of the vaccine and a reopening of the economy. So far in 2021, this has been a very good playbook for investors as value stocks have outperformed growth stocks. As of the date of this letter, the Russell 1000 Value Index (R1000V) has risen 13.8% versus an 8.2% increase for the Russell 1000 Growth Index (R1000G).1
One of the attractive features about value stocks is they tend to have higher dividend yields than growth stocks. For instance, the R1000G has a dividend yield of .6% while the R1000V's dividend yield is 1.7%, nearly three times higher.1In addition, as illustrated in the following chart, which we included in our January letter, the value sector appears to be undervalued relative to the growth sector after years of underperformance.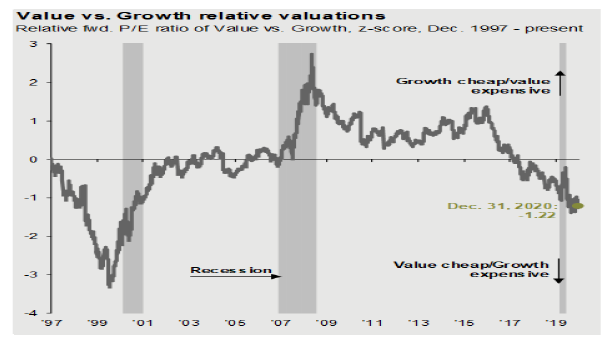 Source: FactSet, FTSE Russell, NBER, J.P. Morgan Asset Management. Guide to the Markets – U.S. Data are as of December 31, 2020. Growth is represented by the Russell 1000 Growth Index and Value is represented by the Russell 1000 Value Index. Beta is calculated relative to the Russell 1000 Index.
We believe traditional dividend stocks are now attractive, especially for investors seeking ways to boost portfolio income. As indicated by recent performance, it appears to us that value/dividend stocks are now going to have their day in the sun and could outperform their growth counterpart for several years to come.
We also continue to favor international emerging market stocks especially developing countries in Asia and Latin America where we think economic growth will be strong over the next several years. Roughly two-thirds of the world's population resides in what is considered emerging countries. These economies tend to have younger demographics which is a positive for economic growth. As these countries continue to modernize, create jobs, and expand their middle class, demand for many consumer products like computers, cell phones, clothing, household products, food items, and more could surge. We believe this presents a great opportunity for companies and industries geared to take advantage of this emerging growth opportunity.
Of course, there are risks that could jeopardize our bullish outlook for the economy and stock market. First, there is political risk. The democratically controlled Senate and House of Representatives could potentially pass tax increases and new government regulations that could hamper economic growth over the next couple of years. The proposed infrastructure bill calls for significantly higher taxes on business corporations. We believe these tax increases, if passed as proposed, would have a materially negative impact on businesses of all sizes. This in turn could suppress job creation at a time when the economy is just starting to get back on its feet. However, we believe the proposed increases will be substantially reduced once the bill is negotiated and finalized. Despite the possibility of anti-business policies coming out of Washington over the next few years, we believe investors and business people will adapt and be able to overcome such policies.
Secondly, there is a risk that both the Federal Reserve monetary policies and the massive government stimulus leads to significantly higher inflation and interest rates. If this were to occur, we believe economic growth could stall with a chance of throwing the economy back into recession. We see this as a very low probability scenario especially for 2021 but one to keep a close eye on. Higher inflation and interest rates would be particularly negative for fixed income investments since bond prices tend to fall with rising interest rates. We are closely monitoring several inflation and interest rate indicators to help navigate through this risk scenario.
Lastly, there is always the potential for an increase in geopolitical risk as countries that tend to be more adversarial to the U.S., potentially test the resolve of the new administration. This typically happens with the election of a new president and Congress. We have already seen this with the recent launch of two ballistic missiles by North Korea into the Sea of Japan, the first such launch in over a year.9We believe there will be more such "tests" in the near future by U.S. adversaries.
Bottom Line
Investor sentiment has made a 180 degree turn since March of 2020 when overall investor sentiment regarding the economy and stock market turned very negative. Today, investor sentiment is fairly positive and bullish for both the U.S. economy and stock market. We too we remain optimistic about the prospects for U.S. economic growth and for higher stock prices this year. However, we understand the need to manage portfolio risk given the current investment environment. To that end, we are monitoring our clients' asset allocations to ensure that they are aligned with investment objectives and risk tolerance. While we don't employ or support a market timing methodology of managing money, we do believe in rebalancing portfolio allocations to predetermined asset allocation objectives. We feel this may be prudent time to realign the equity/bond/cash mix in portfolios especially if it has gotten out of balance with long-term objectives and risk tolerance.
In summary, we believe the underlying fundamentals of the U.S. economy are moving in the right direction and we could be in the midst of a multiyear expansion. We feel that once the majority of the U.S. population is vaccinated for Covid- 19 and variants, both businesses and consumers will resume pre-pandemic spending patterns. As always, there will likely be winners and losers as we emerge from this pandemic. We believe the coronavirus pandemic has fundamentally changed the investment landscape, presenting investors with new opportunities for growth. We will continue to work diligently to identify those opportunities.
As always, we greatly appreciate the trust and confidence you place in us. Stay safe and God bless you!
Your Trinity CapitalManagementTeam
Trinity Capital Management, 821 ESE Loop 323, Suite 100, Tyler, Texas 75701. 903-747-3960. www.tcmtx.com
Footnotes
The indices presented in this material are to provide you with an understanding of their historic performance and are not presented to illustrate the performance of any security. Investors cannot directly purchase any index.
The opinions expressed here reflect the judgment of the author as of the date of the report and are subject to change without notice. The material has been prepared or is distributed solely for information purposes and is not a solicitation or an offer to buy any security or instrument or to participate in any trading strategy. Additional information is available upon request.
Stocks offer long-term growth potential, but may fluctuate more and provide less current income than other investments. An investment in the stock market should be made with an understanding of the risks associated with common stocks, including market fluctuations. Investing in foreign securities presents certain risks not associated with domestic investments, such as currency fluctuation, political and economic instability, and different accounting standards. This may result in greater share price volatility. These risks are heightened in emerging markets.
Wells Fargo Advisors Financial Network is not a legal or tax advisor. Consult your tax advisor or accountant for more details regarding your specific circumstance.
S&P 500 Index: The S&P 500 Index consists of 500 stocks chosen for market size, liquidity, and industry group representation. It is a market value weighted index with each stock's weight in the Index proportionate to its market value.
Dow Jones Industrial Average: The Dow Jones Industrial Average is a price-weighted index of 30 "blue-chip" industrial U.S. stocks. The Russell 1000® Value Index measures the performance of those Russell 1000 companies with lower price-to-book ratios and lower forecasted growth values.
The Russell 1000® Growth Index measures the performance of those Russell 1000 companies with higher price-to-book ratios and higher forecasted growth values.
Past performance is no guarantee of future results and there is no guarantee that any forward-looking statements made in this communication will be attained.
Investment products and services are offered through Wells Fargo Advisors Financial Network, LLC (WFAFN), Member SIPC, a registered broker-dealer and separate non-bank affiliate of Wells Fargo and Company. Trinity Capital Management, LLC is separate entity from WFAFN.
CAR #: 0421-01790